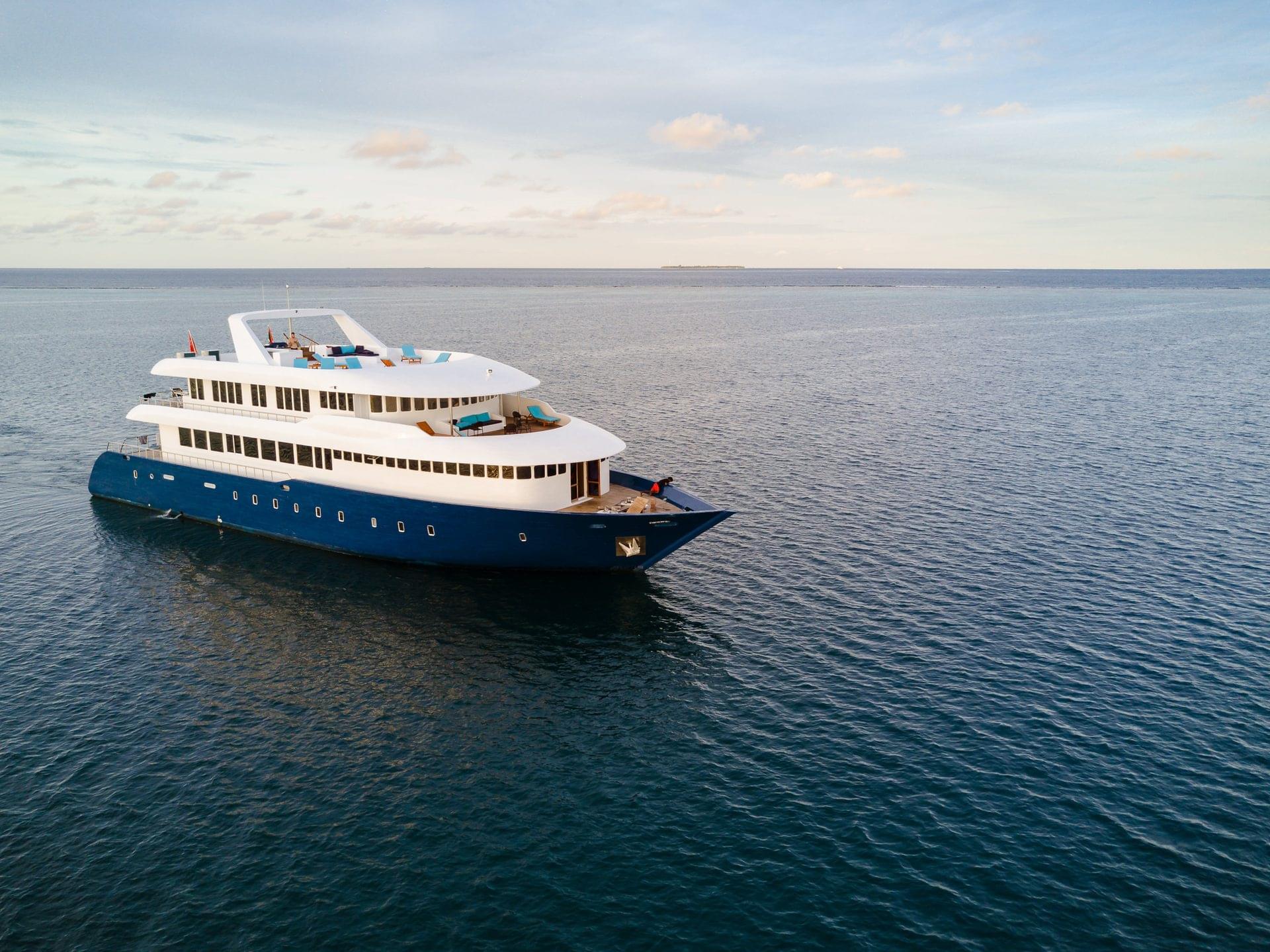 11 Sep

Maldives Legend Cruiser – For Luxury & Space

Maldives Legend Cruiser, the latest addition to our Liveaboard Fleet is one of the finest liveaboards that have been built in the Maldives. Built in 2017, it was formely known as the Seafari Explorer operated by Seafari Maldives. With the Post Covid changes that occured  and the growing demand for a high end luxury version in our fleet we found the perfect option which is both luxurious, spacious and can occupy 24 pax comfortably. With elegance, modern decors, wide and spacious interiors. Maldives Legend Cruiser built in 2017 have been a favourite among divers globally.  Now with us being the operators of the yacht, you are guaranteed with the best local dive team and and the exceptional Maldives Legend Experience!
---
Rooms

Upper Deck  – Total 4 Cabins
– 4 Seaview Suites –  Double / Twin Cabins with a queen sized bed & a single bed

Main Deck & Lower Deck – Total 8 Cabins
– 1 Guest Cabin in the main deck
– 4 Family Cabins with a Double bed and a single bed in lower deck
– 3 Twin Cabins with two single beds in lower deck
All Cabins are fully air – conditioned, with mini bars, hair dryers, lockers, storage and en suite shower and toilet
---
Deck Layout
The liveaboard has a total of four decks
Sun Deck – The spacious sun deck is equipped with sun lounges and Jacuzzi
Upper Deck – The upper deck consists of the wheel house, 4 seaview cabins, a front relaxation area with Day beds and another relaxation area in the back with Sofas and cofee tables where drinks could be served.
Main Deck – The main deck consists of one guest cabin, a relaxation area in the front and a relaxation and dining area on the back, the restaurant, kitchen, lounge and a bar.
Lower Deck – consists of 7 cabins.
---
The Crew
Our amazing crew onboard consists of a total of 8 to 14 crew members depending on the type of Itinerary you choose.
For Diving trips there would be a total of 14 crew members that includes;
Cruise Manager – PADI Certified Dive Instructor who has a minimum experience of 10 years diving in Liveaboards in Maldives
Captains – We have a total of 2 captains with over 10 years experience, who knows the boat from A to Z since they were involved in building and finishing up the boat as well. They are friendly and would go extra mile to ensure guest safety and happiness.
Chef – A highly complimented chef with years of experience and a master in Local, Asian and Continental Cuisine.
Rest of the Crew
The rest of the crew who are both highly qualified and experienced consists of Barman & Waiter, Deck Attendants, Room Attendent, Dhoni Captain, Dhoni Crew and Dive Guides. They are all pro active, friendly, charming and professional and with team work would ensure that all the guests have an amazing experience onboard.